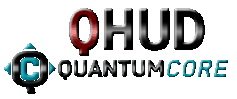 Overview
A complete personal protection, combat, land security, and tools system, utilizing the most advanced technology available in SL.


For years the original Quantum Core version 3 has been the market leader, with every upgrade bringing unique innovations to SL. Quantum Core version 4, known as QHUD, brings yet another revolutionary design that is even easier to use, and faster than anything ever seen before.

When the original Quantum Core entered the market, it changed forever how HUDs were designed and operated. These days most competitor's new HUD designs are based on our old 2007 design.

Quantum Core's QHUD is once again setting the standard for others to follow.



Key Features





Super fast, low script, low prim, low lag, region friendly.




80% less prims, 75% less scripts, and twice as much information in half the screen space!

Over 70 programmable buttons with only 22 prims.

Quantum Core / QHUD is still leading the way in HUD design.





HUD text always lines up correctly over buttons




Our unique AutoScale(tm) function means the text will also appear correctly over the buttons regardless of the size of your computer's screen.

Unlike the old Quantum Core, and other HUDs based on it's design, the QHUD is able to line up the text without needing a separate script and prim for every button on the HUD.

Less prims & less scripts means more stable teleporting and less crashing for people wearing our HUDs.





Context sensitive help screens available from the HUD, so you have help where you need it.




Select a function from the menu and a description of it's function appears above the QHUD as a Tool Tip.

Press the HELP button to be given extended help on the selected function & a link to comprehensive online documentation.

Press the DOCS button and you will receive a full printout of all tool tips in local chat. (print this out as your Hints sheet)
Unique search function that lets you search for help on topics, or specific commands from the SL chat line.

Receive 24/7 live help though the most friendly customer support groups and forums in SL.






Shields that protect from all bullet types in any location. (kill, orbit, phantom, followers, etc)




NonPhysical Vehicle : Basic protection for sandbox builders with useful features like moving through solid objects.

Protected NonPhysical Vehicles : High protection in combat situations with a wide range of unique functions to keep you safe.

Automatic tracking and blocking of attacks before they are launched.

Interceptor shields that aggressively seek out weapons and their owners when they are attacking you

Avatar Interceptors block the past of people who insist on walking into you.

Object Interceptors that block bullets before they hit you. (Fastest Interceptors in SL)

PANIC button to activate extra protection for all shield modes.

SAFE mode can be activated while the QHUD is minimized, instantly turning on your movelock and ClikSafe protection. Ideal for AFK protection.

Force Fields, Weapon Reflection, Cloaking, Hide Underground, Shields with built in retaliation, and so much more...



Automatic tracking and blocking of attacks before they are launched.




Pre-emptive shields activate before bullets have a chance to leave the gun.

Passive attacks are detected and blocked before they can hard you.

Warning lights/sounds on your HUD give a visual indication of who has attacked you, and who is planning an attack.

All attacks are logged so there are no arguments about who did what to whom.





ClikSafe (tm) warns and protects




Early warning of attacks before they can hurt you, and the ability to block them completely.

Deformers, Guns, Passive Weapons, and Active Weapons are all detected, blocked, and logged for your protection.





Ability to Reflect, Deflect, or Redirect other people's weapons when they attack you.




Refect other people's weapons back at them.

Deflect other people's weapons away from you.

Redirect other people's weapons to attack someone else instead of you.





Several different Cloaking devices to keep you hidden from sight.




Hide your body without distorting other people around you.

Hide your location by going where sensors can't see you.





Movement locks with powerful anti-orbit protection.




Our Active Move Lock will prevent people from orbiting/pushing you without delay.

Any weapon strong enough to move you will be overpowered by the anti-orbit feature of the MoveLock as you are brought back to your original location.

Unlike traditional MoveLocks, this one is able to provide full protection even when you are walking.





Land Management




Comprehensive inter-region multi-owner land management system. Unique to the QHUD.

UnSit people over your land, group land, and trusted land.

Eject people over your land, group land, and trusted land.

Send people home over your land, group land, and trusted land.

Add and Remove land Pass.

Ban people over your land, group land, and trusted land. The ban list is instantly shared with all your Land Drones and the Drones belonging to people who Trust you.

Trust Lists enable you to share Ban lists with your friends/neighbours, as well as giving them the ability to control your Land Drones.

A Land Drone lets you do all these things over other people's land, and let people on your trust list do these things over your land. Ideal for the security industry.





Real time radar




QHUD tracks the location, land permissions (build/script/push/entry), and status (standing/flying/sitting) of every avatar in the region.

QRadar (free with QHUD) shows the location of everyone in the region, complete with the direction they are facing, weapons they are using, distance, height, and more in a friendly colour coded map.





Sensors and tracers that can give you information about your surroundings.




Comprehensive range of sensors, probes, and even a client side plug-in capable of detecting

everyone

in a region.

Tracer beams, markers, followers, and mapping abilities make it easy to locate people who are hiding.

Scan gives a full complement of information on everyone in the region.

QHUD's full sensor information is available while minimised at the press of a toggle button.





Channel scanner for advance warning and reporting.




A 64 channel scanner gives you advanced warning of what other people are planning to do by letting you see what commands they are giving to their HUDs.

Basic or Advanced information reporting options.





Bug scanner warns you if someone is listening to your conversations.




A "bug" is a scripted object designed to listen to your open chat conversations and relay it to other people who are not in the area. Our bug scanner helps you detect when someone is covertly listening to you.




Comprehensive control over attacks, allowing you to selectively add and remove attacks from people.




The QHUD has the unique ability to tag/untag people, and then add or remove weapons from those people.

The incoming attack list can be instantly copied to the outgoing attack list allowing you to select multiple aggressors with one click, and launch your retaliation with a second click.






Unique Gun Mode




Turning any Quantum Core HUD weapon into a point and shoot attack using the included Quantum Gun

Highly detailed gun in the Quantum style.

Use our gun, or load our multi-bullets into your own gun. When the bullets hit someone the QHUD instantly launches the currently selected weapon at the person you just shot.

Perfect for security people who want to "Shoot Eject" people from clubs for that extra realism.





Chained Chat commands permit you to send more than one attack at a time.




The chat command system in the QHUD is designed to work with Gestures in a way that lets you create macros.
Eg. "/666 Kill Orbit Spam <name>" can be used on the command line or in a gesture

Examples of how to make macros gesture are provided.





Remotely launch weapons even when your over no-build land.




The RemoteCore module lets you remotely activate any of the QHUD's weapons regardless of your current local.

You can stand in a safe zone while directing your RemoteCore to fight on your behalf outside of the safe zone. (ie. cheat!)





Ally and Foes tracking




Track your allys and foes when they enter the same region as you.

Receive warnings when you select an ally or foe as a target.

Automatic exclusion of Allys from shields and global target weapons.

Alert sounds for Allys, Foes, Noobies, and 1 day old accounts.





Anonymous Orbits that work over no-push land, even when the target is sitting.




A wide selection of orbits, pushes, and bumps for all situations.

Orbits that break Move Locks. (Even Quantum Core Move Locks!)

Orbits with a comical twist to amuse those watching as a griefer heads skywards.

Persistent, Single Shot, Hard, Soft, Up, Down, Sideways, Random Directions, Build, No-Build, Push, No-Push, Anonymous, Active, or Passive. There is an orbit for every situation.

When life gets you down, orbit yourself.






Kills that cut through all shields without exception.




Instant Kills, Slow Kills, Shield breakers, Single Target, Multi Target, Anonymous, and Comical.

You will run out of victims before you run out of different ways to kill them!





Traps and cages that hold your enemies.




Sticky Spider Webs, Easter Island Stone Heads, a collection of Fast Food, our famous Bully trap, and more, will help prevent your victim from running away.





Comical attacks to frustrate your enemies while you laugh at them!




Trap them in a Hamburger, Make them literally kiss their own ass goodbye, Squash them to half their height, Wash their mouth out with soap, make them fart, and more...

Warning: Making someone kiss their own ass while farting is really nasty... when you spill your coffee laughing at them.






Flight and Movement assistance.




Variable speed Flight Assist with turn assist at high speeds.

Variable speed Sprint Assist (run/walk) with turn assist at high speeds.

Rocket Boosters for maximum speed with the press of a button!

Multiple speed levels from Normal to Insane!





Teleporters to instantly move yourself and others




Jump to your camera position, or Guide other people to your camera location, even when the other people are in a different region.

Bring people to you with a Quantum Teleporter from anywhere in the current region.

Go to anyone anywhere in the region using the map or your NonPhysicalVehicle.

Teleport back to your last location.

Optionally show a cool teleporter effect when you arrive somewhere.

Teleport Stability ensures you will not fall or be pushed while you are arriving in the new location.





Colour configurable & skin-able HUD, so you can tailor the appearance to your preferences.




You have full control over background, buttons, colours, and transparency to make your QHUD look the way you want it.

16 Million colours

Multiple transparency levels

Custom button appearance

Custom background (skin)





Minimize your HUD when it's not being used.




Real minimize! The QHUD gets fully out of your way without leaving behind any annoying invisible prims all over your screen to block your interactions with objects in world.

While minimized you will only see a small QHUD Logo, Lag meter, and the Radar/Safe toggle buttons on screen. The combined space they take up is about the same as the viewer's media controls. (ie. next to nothing!)





An API gives you the ability to add your own weapons and launch them through your HUD.




Add your own custom built weapons to the QHUD and control them without needing to script!

The API includes a full set of control scripts and how to interact with them for those who would like to try something more advanced.

Add your own objects to the QHUD and use it as an object rezzer.





User Customizable Menu Structure (UCMS)




Add your own menu pages

customize the existing menus to suit your needs.

Add your own functions to the menus. (See API)

You can even control other products from your QHUD!

No scripting required!





Free upgrades to keep up with the latest advances in technology.




QHUD is a living product. This means the creator is actively developing it.

Monthly upgrades add new features, functions, and fun.

Emergency upgrades are sent within hours of the Lindens breaking something! ;)





With more than 200 functions, you can toss out your old HUDs.